Pawscout
A safe place for you and your bestie. Pawscout offers affordable, modern products - starting with the free Pawscout App - for enhancing pet safety, well-being, and fun. Join our community of pet lovers today.
Join Pawscout
Our Mission
Over 35% of Pets will go missing during their lifetime,
and 80% will never make it back to their families. Pawscout is building the world's largest network for pet safety, well-being, and fun, empowering pet owners and lovers to cultivate stronger and safer neighborhoods for pets via its modern, lightweight, affordable tags for cats and dogs. Download the free, feature-packed Pawscout App and begin protecting your pet today.
Almost 1 million users across the US and Canada make Pawscout one of the world's largest pet-safety superstars.
Pawscout has reunited lost pets with their people.
Every Pawscout App user receives alerts about nearby lost pets, creating a zone of safety around your neighborhood. Make your community even stronger and safer for pets by inviting family, friends, and neighbors to download the Pawscout App.
What Happens When a Pet Goes Missing?
We've got you covered! If your pet goes missing, we'll help you create and broadcast a lost pet post in seconds with all the critical details (breed, size, color, last-known location, meds, behavioral conditions, and more) needed to keep your pet safe and get them home as quickly as possible.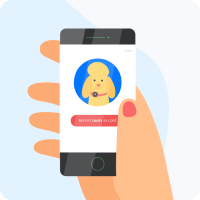 Lost Pet Report
The pet parent quickly creates a lost pet "Amber" alert in the Pawscout App.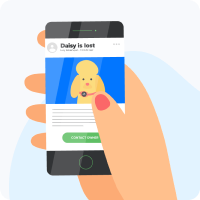 Broadcast Alert
Pawscout broadcasts the alert to all Pawscouters within a 5-mile radius.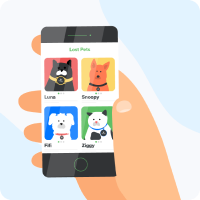 Pet Found
A rescuer scans the tag of the lost pet.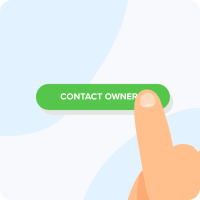 Two-Way Notifications
The pet parent receives an alert from the rescuer; the rescuer receives contact info for the pet parent.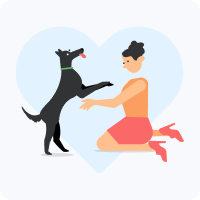 Reunification
Set a meetup with the pet's family. Enjoy the tail-wagging and prancing that ensues.
Our Products
Pawscout offers two simple, affordable, modern solutions to keep your pet safe and healthy, and to get them home as quickly as possible if they go missing.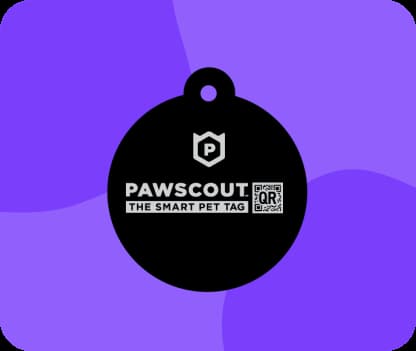 PawscoutQR
Pawscout QR Tag is the smallest and most affordable Pawscout Tag, and relies on the smarts of the Pawscout App and community to keep your pet safe and healthy.
Easy Configuration
Scan your QR Code and pair it in the Pawscout App with your pet in seconds.
No Batteries
All the smarts are in the Pawscout App: not this small, lightweight, waterproof tag.
Pawscout Pro
Our subscription plan expands your safety petwork, sends real-time alerts, and much more.
Lost Pets
Broadcast an alert in seconds to your entire nearby Pawscout community if your pet goes missing.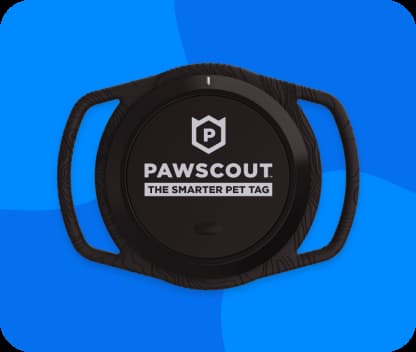 Pawscout Bluetooth Tag
The Bluetooth Pawscout Smarter Pet Tag communicates with your phone - and those of other Pawscouters - to provide important safety information about your pet.
300' Range (Outdoors)
Your Pawscout Tag communicates with the Pawscout App to tell you if your pet is within three hundred feet of you or another Pawscouter.
Outdoor Virtual Leash
Get alerts when your pet goes in or out of range of your phone - or those of your guardians.
Pawscout Pro
Supercharge your experience with our subscription plan. Additional safety features and alerts if your pet goes missing.
Lost Pets
Broadcast a lost pet alert in seconds to all nearby Pawscouters if your best buddy goes missing.
Free Pawscout App
Our tags are simple, lightweight and easy to use because all the magic is in the Pawscout App. Even if you don't own a tag or a pet, join now to help lost pets, track walks, and learn from our community of avid pet lovers.
Discover Pawscout
Join our community of pet superheroes for free today!
Search for Lost Pets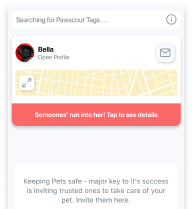 Record and Share Walks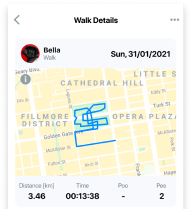 Build a Social Network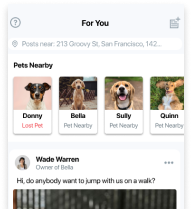 Schedule Playdates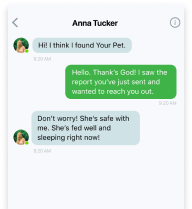 Our Community by Numbers
Pets Added Weekly to Pawscout
Pets Found Monthly with the Pawscout App
Walks Logged Monthly with the Pawscout App
Monthly Posts on Pawscout's Social Feed
New Pawscouters per Week
User Stories
We found Coco 🙌 thanks to the rescuer who found him and contacted us. Thank you soo much!!
Thanks to good neighbors and Pawscout we were able to find Rockie in just a short time.
Thank God she had her Pawscout on and the neighbors made an account on Pawscout to contact us.
Surprised how well it works. Extremely easy to activate. I recommend one!
This app helped me find my puppy. Thank you so much!
We found Sammy at the house of his rescuer - so thankful to Pawscout.
Someone brought him right to my door. Thank you Pawscout.
Thank you to the kind stranger who led King home.
Featured In